Emma West – My first year at SEH French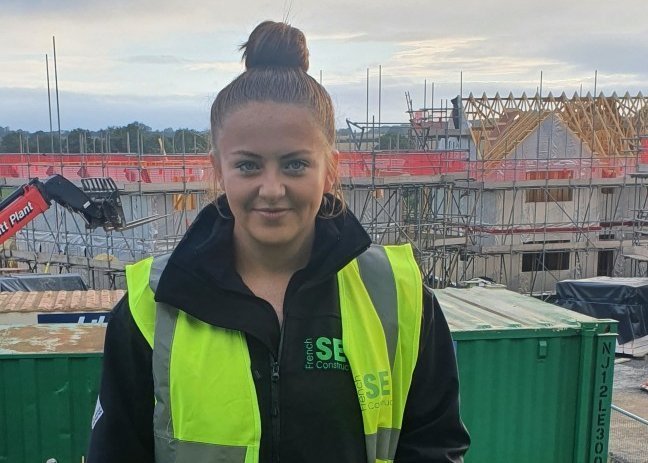 SEH French is committed to recruiting the best young talent in the construction industry. Here, Emma West, who is training to become a qualified quantity surveyor, looks back on her first year at the company.
The last 12 months have been filled with great responsibilities, coupled with plenty of setbacks. I have worked full-time in the office, supplemented by day release at university as I study for my degree, soaking up information from our team of experts while learning about the industry.
It has been a year that has coincided with the coronavirus pandemic meaning that I have had to adapt to a new working practice following a period of furlough.
But now, I am back working on site alongside the best.
Learning on the job
My learning over the last year has been a fantastic balance between professional practices and academic learning. Being able to learn both gives me not only four years of university knowledge, but also four years of experience within the industry. This has given me an invaluable head-start on other graduates and job applicants.
By working alongside qualified surveyors, I have been able to see exactly how the industry works and how my qualification will be applied. I have also had opportunities to take on responsibilities of my own and create strong working relationship with colleagues and contacts.
The best part of learning on the job is that I get to put it into practice immediately.
Experience
The first project I was involved with was Claydon Primary School's refurbishment and I then moved onto a home renovation project in Felixstowe. I find great satisfaction in watching a project progress from its start to a finished product.
My next aim is to become an assistant, a role which comprises of greater independence and responsibility. I have been able to assist a senior surveyor in my first year and I am lucky enough to be in a position in which I feel comfortable enough to ask questions that will benefit my development.
Nurturing young talent
SEH French believes in nurturing the industry's young talent by providing them with the practical skills they need to get jobs done. It means that I have been entrusted with responsibilities from an early stage of my career, which display's SEH French's belief in my potential.
I am trusted to deal with sub-contractors' accounts, number-crunching, measuring both on-site and from drawings and understanding building components. I am beginning to work more independently and have a larger impact on projects by being involved in more aspects of the job.
Team spirit
I cannot speak more highly of the importance of having a spirited and supportive team to work with.
Working for SEH French has been a real honour as I have received more support than I ever could have asked for, something that has helped me to settle in. Everyone at the company has gone above and beyond to make sure I understand everything I need to, and they have always been aware of ways in which I can progress.
I have been made to feel very welcome and I truly feel like a part of the team, both on a professional and personal level. I strive to be a valuable, long-serving member of the SEH French team as it is some where I am proud to work.
Hopes for the future
I have huge ambition for the next five years. I hope to have passed my university degree and have had more project experience.
At SEH French, I aim to become a reliable and high-achieving surveyor. As I will have had six years of industry experience at that point, I hope to be surveying projects of my own. Of course, I will endeavour to continue the positive relationships I have made with colleagues.
There is no doubt that Emma has a burgeoning reputation within SEH French and we look forward to watching her develop within the industry to become a vital part of our team.