EADT 'Large business of the year' award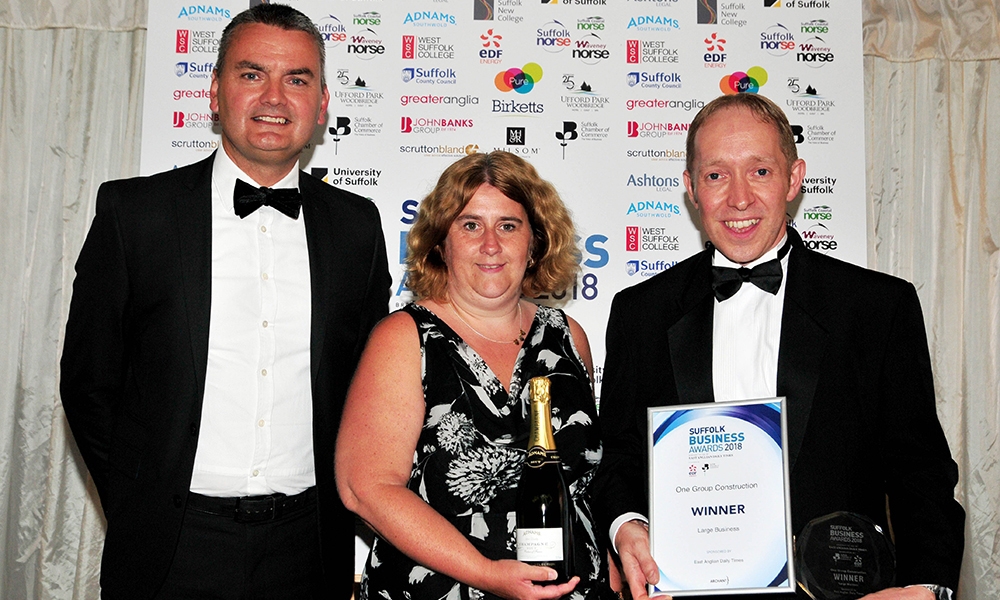 SEH French's parent company One Group Construction has won Suffolk's Large Business of the Year Award.
In a report published in the East Anglian Daily Times, 'A commitment to corporate social responsibility was recognised by judges' when they visited the Group's HQ, which is also shared with SEH French, and sister companies SEH French Building and Jackson Civil Engineering.
The judges said: "This group of construction related businesses has gone from strength to strength in recent years, acquiring another Suffolk company, SEH, in 2014 and showing strong profit growth, particularly in 2017."
"The company's title reveals some of the secrets of its success, as being part of one united group means companies have the advantage of shared experiences, common aspirations and a supportive culture"
"The judges were particularly impressed by the dynamic leadership and ambition, with each division maintaining enough autonomy to operate as a business in its own right while sharing centralised services and operating towards clearly defined targets and key performance indicators."
One Group's Chief Executive, Richard Neall said: "We're thrilled to have won this award – our success is testament to the dedication of our staff across the group, and I'm delighted that our hard work has been recognised."
One Group Construction is a collection of construction related businesses, offering a variety of services to the construction sector. Operating from more than 20 offices in the UK, the group's activities reach as far as North Yorkshire, employing over 500 people with a turnover of around £160m each year.
Image L-R: Jonathan Cropley of sponsor East Anglian Daily Times, with Lindsey and Trevor Dixon, One Group Construction's Finance Director.
Picture: David Garrad